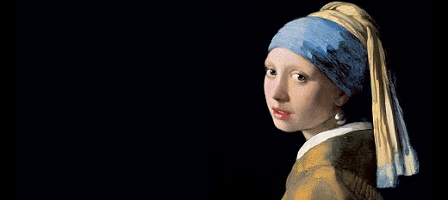 'La ragazza con l'orecchino di perla. Il mito della Golden Age, da Vermeer a Rembrandt – Capolavori dal Mauritshuis'
Palazzo Fava – Bologna
8th February – 25th May 2014
Don't miss this truly unique chance to see one of the most famous paintings in the world, on display in Bologna until the 25th May 2014.
'Girl with a Pearl Earring' is usually on display in the Mauritshuis museum in The Hague, making the Dutch city an important pit stop for art lovers everywhere, on a par with Leonardo's Mona Lisa in Paris or Munch's Scream in Oslo. For a few months, however, you can see Vermeer's world-famous masterpiece in the Palazzo Fava, in Bologna, as part of an unprecedented loan programme initiated during the Mauritshuis museum's closure for restoration.
The painting's residency in Bologna comes at the tail end of a "world tour" of sorts, which took the Girl with a Pearl Earring to Tokyo, Kobe, San Francisco, Atlanta and New York. Unlike in the previous exhibitions, however, the organisers of the Bologna leg of the tour have decided to take the opportunity to stage a larger exhibition around this central piece, one that takes a look at the entire 17th century in Dutch art, the so-called "Golden Age".
This collection, made up of 37 paintings, gives visitors the chance to view and compare the works of Vermeer, Rembrandt, Van Goyen, Hobbema, Claesz, Steen and many other artists usually featured in the Mauritshuis gallery, creating a comprehensive reconstruction of the artistic legacy of this century from the point of view of the Netherlands' great artists.
Opening hours:
Monday – Thursday 9 – 20.00
Friday and Sunday 9 – 21.00
Saturday 9 – 22.00