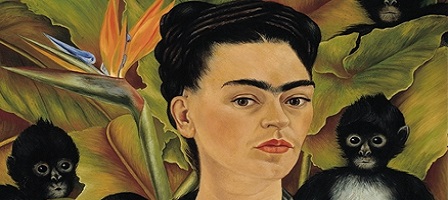 'Frida Kahlo'
Scuderie del Quirinale – Rome
20th March – 31st August 2014
Don't miss this great exhibition on the work of Frida Kahlo, beginning in the "Scuderie del Quirinale" in Rome on the 20th March.
Kahlo's legacy is one of global renown: she is the indisputed face of 20th century Mexican culture and artistic innovation, and an early feminist icon, more recently brought to life through Hollywood recreations of her biography. Her tale is not simply a personal one tied to her specific life story and the hardships she endured, but one deeply connected to the world around her, and more specifically to the social and cultural transformations which were unfolding and which would lead to the Mexican revolution.
This inextricable affiliation with the revolutionary spirit of her time turned Frida Kahlo into a leading symbol of the artistic vanguard, and she represents a guide of sorts, leading the outside viewer through the main cultural movements that took place in Mexico during her lifetime, from revolutionary Pauperism to Stridentism, and from Surrealism to what would subsequently take the name of Magic Realism.
This exhibition sets out to assemble pieces taken from public and private collections in Mexico, Europe and the United States in order to create a captivating profile of Kahlo's artistic evolution. A series of photographic portraits of Kahlo herself completes the exhibition, tying in with the underlying theme of auto-representation which can be sensed throughout.
Opening hours:
Sunday – Thursday 10 – 20.00
Friday – Saturday 10 – 22.30