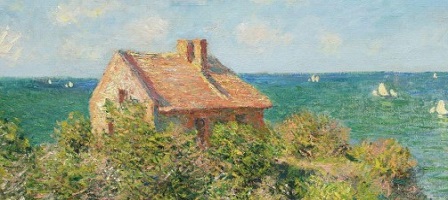 'Verso Monet. Storia del paesaggio dal Seicento al Novecento'
Basilica Palladiana – Vicenza
22nd February – 4th May 2014
Following its success in Verona, where it had over 200.000 visitors in total, this fascinating exhibition can now be visited in Vicenza's magnificent Basilica Palladiana until the 4th May.
The exhibition focuses on European and American landscape paintings between the 17th and 20th century, by taking a look at the studies of nature made during this time through an analysis of the major painting genres and movements, right up to Monet's Water Lilies in the early 1900s.
Divided into five different sections, there are over 90 paintings and 10 rare drawings on display, on loan from the most important museums in the world as well as from several private collections. The sections each focus on separate key moments in the depiction of nature in art as a separate aspect from the depiction of figures, and therefore not as a simple background to the main event, but as the main protagonist of the paintings themselves.
The title of the exhibition refers to the huge effect Claude Monet had on nature in art beginning from the second half of the 19th century. During this time he was deeply involved in painting in the Forest of Fontainebleau and on the Normandy coast, and was a key figure in the transition from the representation of landscapes as noble snapshots of reality to a deep representation of a more internal and emotional experience.
The importance of Monet's role in this transition between old and new is the reason why his presence makes up a large part of the exhibition, with 20 paintings in total.
Other artists whose work is an essential part of the show are Domenichino, Lorrain, Poussin, Salvator Rosa, Van Goyen, Hobbema, Rembrandt, Konnick, Canaletto, Guardi, Turner, Constable, Friedrich, up to and including many of Monet's contemporaries such as Renoir, Sisley, Pissarro, Caillebotte, Degas, Manet, Van Gogh, Gauguin and Cézanne.
Opening hours:
Monday – Thursday: 9 – 19.00
Friday – Sunday: 9- 20.00