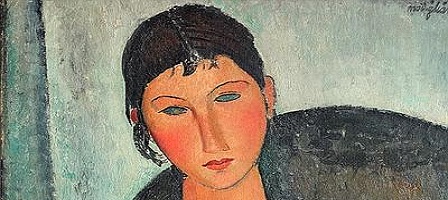 'Modigliani, Soutine e gli artisti maledetti. La collezione Netter'
Fondazione Roma Museo, Palazzo Cipolla – Rome
14th November 2013 – 6th April 2014
After its great success at Paris's Pinacothèque and in Milan's Palazzo Reale, don't miss this fascinating exhibition, on display until the 6th April 2014 at Rome's Palazzo Cipolla. Featuring over 120 masterpieces selected from the collection of Jonas Netter, it focuses on Modigliani and several other artists with whom he came into contact during the early years of the 20th Century.
The exhibit contains paintings created by Modigliani, as well as by Soutine, Utrillo, Suzanne Valadon, Kisling and others, in the period known as the "anni folli", the "mad years", in which they resided in the renowned Parisian quarter of Montparnasse. During these years they transformed it into a cultural hub, the meeting place of key artistic and intellectual figures of the time, among whom was Jonas Netter himself.
Through his art merchant friend, the Polish poet Léopold Zborowski, Netter encountered many central figures of the artistic vanguards, and quickly began to invest in those artworks which he could afford, becoming one of the first collectors to buy the works of a young Modigliani. Netter was enchanted by Modigliani's creative originality and in particular by the stylised female faces for which he became so well known.
By investing in the paintings of Modigliani, Soutine and others before they became more widely recognised, Jonas Netter distinguished himself as an important figure in the artistic world, an innovator whose legacy can be observed in this interesting assortment of paintings from his personal collection.
Opening hours:
Monday 14.30 – 20.00
Tuesday – Sunday 10.00 – 20.00