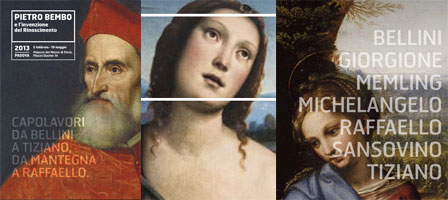 'Pietro Bembo e l'invenzione del Rinascimento Capolavori di Bellini, Giorgione, Tiziano, Raffaello'
Padua (Padova), Palazzo del Monte di Pietà – Piazza Duomo, 14
2nd February – 19th May 2013
Advance notice of this major exhibition for 2013, Padua. Reunited for the first time in over 500 years, these are works from the collection of 'an inventor of the Renaissance', Pietro Bembo. Garnered from across Europe and America, there are to be pieces by Titian, Bellini, Mantegna and Raphael.
Originally on show in Bembo's home, there are paintings, sculpture, jewelry, bronzes, manuscripts and more