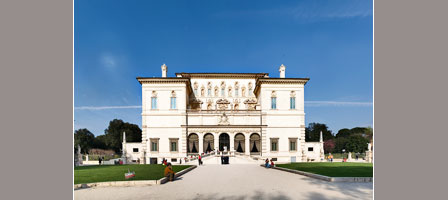 **Update, June 12th – it now looks like the Borghese may again be open on Sundays as of Sunday July 1st 2012. Good news.
Still no official announcements, but the effects are already being manifested, most notably that bookings – on Sundays – to visit the Borghese Gallery are currently on hold, frozen. We've blocked Sundays on our booking calendars. Other venues likely to be affected are Palazzo Barberini, Castel Sant'Angelo, Galleria Spada, Galleria Corsini and Palazzo Venezia.
The effects of what, you ask? According to the local representative of the Trade Union concerned, personnel cuts mean that these museums quite simply do not have sufficient staff to be able to open every day. As he quite rightly states, the damages both in terms of image as well as economically, right when the tourists begin to flood Rome, are beyond measure.
It seems impossible that the Borghese Gallery, always 'sold out' at high season, cannot balance the books. Or you could argue that it shouldn't even have to do so in the first place – precious buildings and unique art being why most people bring their wallets to Rome as opposed to elsewhere. Shocking, insane, scandalous, wrong, puzzling … feel free to add your own adjectives.
And the best 'til last? There are rumblings that staff shortages may mean the Roman Forum and the Colosseum cannot remain open on Sundays.
Again, there is no official announcement on any of this. Word leaked out, pretty much. We have yet to be told of closures, just told that bookings aren't possible at the moment. The only comments from the Ministry of Culture are along the lines of 'we're doing our best' and that said best is likely to be partial openings (only certain rooms).
There really are no words.