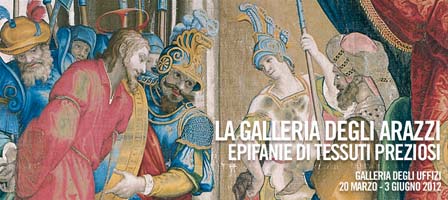 'La Galleria degli arazzi. Epifanie di tessuti preziosi'
Florence, Uffizi Gallery
20th March – 3rd June 2012
Featuring 17 prestigious tapestries, this exhibition offers a rare glimpse into one of the many hidden galleries (reserve collections) of the Uffizi. These works have been under lock, key and cover since 1987 … one day they will see the light again (light, of course, being the principle enemy of these once brilliantly-couloured works of art) in a series of specially designed rooms, but for now this is a rare opportunity to admire these works of the sixteenth and seventeenth centuries, hidden away for so long from public view.
A small PDF catalogue (Italian only) may be downloaded here.
Florence exhibitions 2012, official site
Uffizi Gallery ticket reservations