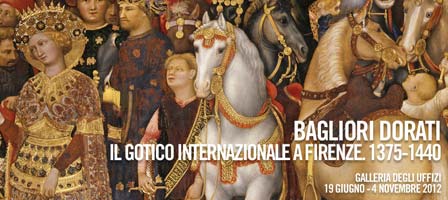 'Bagliori dorati, il gotico internazionale a Firenze 1375-1440'
Florence, Uffizi Gallery
19th June – 4th November 2012
The second major exhibition at the Uffizi in 2012, this display of Gothic art from the Florence of 1375 to 1440 can be translated as 'Golden (choose between:) glimmers/glows/dazzles/glints', and highlights an incredible period in Florence's artistic past, a rich and abundant era from the times of Cosimo de' Medici the elder.
Works come from public and private collections both national and international, and as well as key pieces from well known masters (such as Paolo Uccello and Lorenzo Ghiberti), the exhibition also aims to highlight the works of relatively unknown artists as well as less typical mediums – there are sculptures in wood and marble alongside illuminated manuscripts and works sacred and profane.
A small PDF catalogue (Italian only) may be downloaded here.
Florence exhibitions 2012, official site
Uffizi Gallery ticket booking