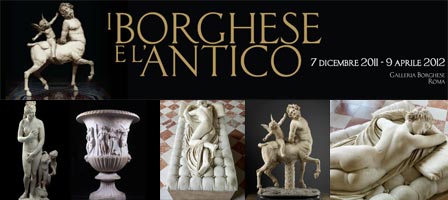 Rome, Borghese Gallery – 'I Borghese e l'antico'
7th December 2011 – 9th April 2012
The dates have been moved a few times, but finally this exhibition is about to open. A unique event, on the occasion of Italy's 150th anniversary of Unification, this exhibition sees more than 60 masterpieces 'coming home' to the Borghese Gallery (after 200 years) from the Louvre Museum in Paris. Some of these pieces have never before left the Louvre.
Among the many remarkable exhibits are the Borghese Vase, the Sleeping Hermaphrodite (as restored by a young Bernini), Cranach's Three Graces and the 'Centauro cavalcato da Amore'.