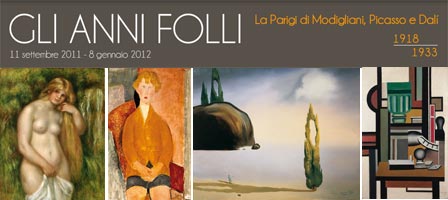 Gli Anni Folli. La Parigi di Modigliani, Picasso e Dalí, 1918-1933
Ferrara, Palazzo dei Diamanti, 11th September 2011 – 8th January 2012
'The Crazy Years', a literal translation, doesn't quite strike the right note for this exhibition, subtitled 'The Paris of Modigliani, Picasso and Dalí'. Paris in the 1920's was the powerhouse of all things European art and this energy, innovation and creativity are the raison d'être for this show:
Modern masters, such as Monet, Matisse, Mondrian, Picasso, Braque, Modigliani, Chagall, Duchamp, De Chirico, Miró, Magritte and Dalí are the key figures in a major exhibition by Ferrara Arte that, for the first time in Italy, through a careful selection of works coming from prestigious public and private collections all over the world, tells about this golden period in the City of Light.