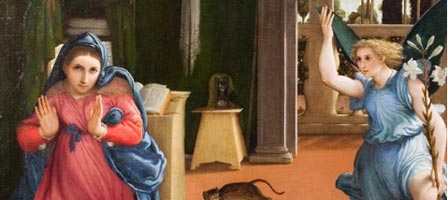 **** Update: this exhibition will now run until the 25th of March 2012.
Lorenzo Lotto
Gallerie dell'Accademia, Venice, August 29th – October 30th 2011
*** This exhibition has been delayed – see the comment from the organisers below ***
The result of an exchange with the Hermitage in St Petersburg (they get the Tempesta di Giorgione da Castelfranco), the Venice Academy will be showing two works by Lotto that have rarely, if ever been shown in Italy – 'Doppio ritratto dei coniugi Bonghi' and a 'Madonna col Bambino ed Angeli'.
These two works will be joined by the Accademia's own 'Ritratto di giovane', thought to show a gentleman of Treviso.