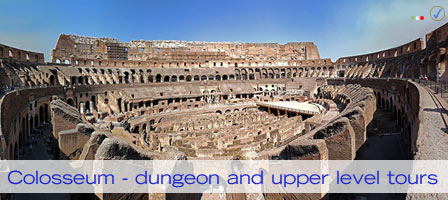 **** Update – we are as of today (26th September 2011) taking October bookings for Colosseum dungeons and upper level tours, both 2 and 3 hour varieties (the 3 hour tour also takes in the nearby Roman Forum).
Furthermore, there are noises emerging to the effect that there may well be tours running in November and December 2011 – go here to sign up for an email alert and we'll let you know if things become any clearer.
For now it is unclear when we'll be able to take orders for tours of the Colosseum dungeons and upper levels beyond the end of September; note that it's a running certainty that there'll be no tours running from November until February inclusive. If you'd like to be informed as soon as we know anything more about Autumn 2011, then please provide your email address below (in the box under the 'Email Address' label) to sign up for notification.
Press the 'Subscribe now' button and you'll be sent an email with an opt-in link that you'll need to click to confirm subscription – you'll then be shown a web page confirming that your subscription is active. That's it, nothing else to do, and we hope to be contacting you before too very long! Thanks.