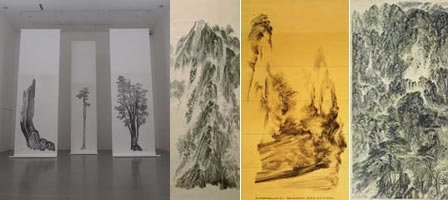 Xu Longsen – 'On Top Of Two Empires'
Rome, Museo della Civiltà Romana
21st June – 24th July 2011
A first showing in Italy (the exhibition then moves on to England and France) of works by a key modern Chinese artist, Xu Longsen. Part of the Chinese Culture Year in Italy, the exhibition of landscape works includes large works of pen and ink on rice paper.
The exhibition is organised in conjunction with gallery Beyond Art Space in Beijing, where the following quote is taken from:
Xu Longsen's works are rooted in a long tradition, which is marked by the amalgamation of spirit and the surrounding environment. The size of his paintings is so large that he needs a ladder to climb up the paintings to paint. This is what sublimes the artist's soul. The painter paints, and is absorbed in his work and involved in the nature thanks to the painting, as in a ritual of regeneration. It's a ritual of identification that's similar to different coordinates: between old and new, between tradition and present, between the long march of China and its present both in action.