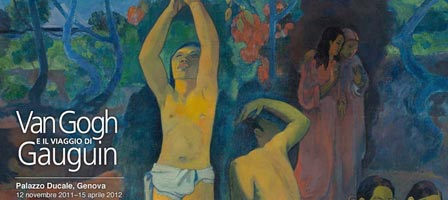 'Van Gogh and Gauguin's Journey', Palazzo Ducale, Genoa
November 12th 2011 – April 15th 2012
An upcoming exhibition that brings together American and European masterpieces spanning two centuries, with works by Van Gogh (over 40 of them), Gauguin and various American artists such as Edward Hopper, Andrew Wyeth, Mark Rothko, Richard Diebenkorn, and Caspar David Friedrich.
To quote from the press release:
The exhibit, called Van Gogh and Gauguin's Journey ('Van Gogh e il viaggio di Gauguin') is a tour of 80 works, spanning 200 years of European and American art, that deal with journeys to explore new territory, external and internal, geographical and existential. It is an Italian curator's road trip through voyages of foreign masters that spawned groundbreaking creativity – often at heartbreaking expense.
Official site for the exhibition
Press release, in English
Italy ticket booking