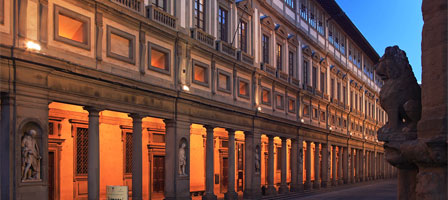 You're not allowed to consume food inside the Uffizi Gallery (unless at the gallery's own cafe – see here for a full list of official rules and regulations), but nobody has told the woodworm (tarli) that.
Alarms went off in 2008 and war has been waged ever since – to date over 400 works have been treated, not to mention elaborate decorations, cornicing – even the doorframes themselves have not been spared.
The remarkable thing is that this work has been carried out in situ, without the need to remove any of the major works of art. An elaborate system involving creating a sealed environment that is then pumped full of nitrogen has been created, and it is working.
Link to article (Italian only)
Ticket booking for the Uffizi Gallery