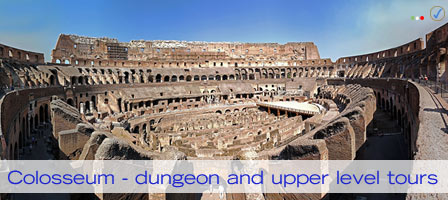 After a very frustrating, jittery start, things have now settled down as regards reserving one of the incredibly popular guided tours of the Colosseum dungeons and upper levels.
For those of you who were quick off the blocks in making your bookings, only to find that they were instantly put on hold, please, once more, accept our apologies for the delay. The situation was totally beyond our control; we have now cleared the queue and have hopefully fulfilled your order.
Putting that behind us, we have now pre-booked a large number of these tours for April, May and June 2011. These tours have guaranteed availability (until they're sold out, naturally) and have a group size of 24 people plus tour guide. They are in English, last 3 hours and finish with a guided tour of the nearby Roman Forum.
We can still accept 'on request' orders for specific dates and times but, as high season draws nearer, it is inevitable that we will have to decline many, if not the majority, of these requests (also note that these 'on request' tours last just 2 hours and do not include a guided tour of the Forum).
For now it is not possible to book for a visit beyond the end of June – we'll post news of any change to this as soon as possible. For now, use our Colosseum dungeon and upper level tour page to see what's available during your time in Rome.