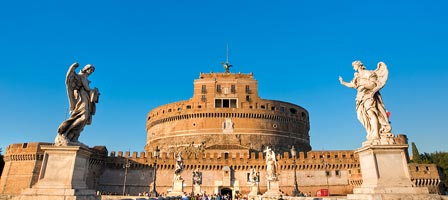 We've just added another walking tour of Rome, one that finishes with a visit to the 'Angel's Castle', Castel Sant'Angelo, and thought we'd buttare giù a bit of background on this most imposing of Rome's monuments.
Castel Sant'Angelo was originally built by the Roman Emperor Hadrian as a mausoleum for him and his family. Construction began in 123 AD to be finished 16 years later under the reign of Antoninus Pius, Hadrian' successor. The mausoleum was connected to the other side of the Tiber by the newly constructed Elian Bridge, the Pons Aelius, know today as the Ponte Sant'Angelo. The many statues on the bridge were added during Renaissance times.
The construction was originally a cylindrical colonnaded drum sitting atop a wide square platform base, surmounted by an earth garden and a golden quadriga, chariot. The castle is nowadays topped by a bronze statue of an angel (itself a replacement for the marble original), hence the modern day name. Hadrian's ashes were placed inside the mausoleum in 138 AD, together with those of his wifes and first adopted son. He was joined by the remains of successive Roman Emperors, the last of which is felt to have been the Emperor Caracalla in 217 AD. The repository for the urns containing these ashes were likely placed deep inside the mausoleum, nowadays known as the Treasury room.
What today's visitor sees is what remains after the building was fortified and gradually incorporated into the defensive Aurelian walls, eventually becoming a fortress in 401 AD – much of the contents and decorations were destroyed as a result of these processes. In 1277 the building became a papal property, used as a safe bolt-hole; a secret corridor connects the castle to the Vatican. The papal apartments, quite beautifully decorated and frescoed, sat atop the lower levels, less exalted in function, used as they were as both a prison and a place for torture and executions.
The castle was decommissioned in 1901 and went on to become the museum it is today, the Museo Nazionale di Castel Sant'Angelo.
Book this walking tour of Rome (visit to Castel Sant'Angelo included)
Rome ticket booking