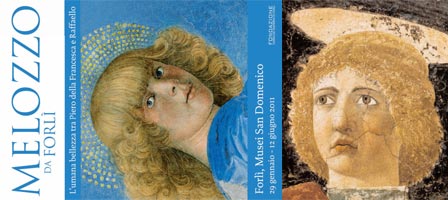 'Melozzo da Forlì. L'umana bellezza tra Piero della Francesca e Raffello'
Forli, San Domenico Museum
January 29th – June 12th 2011, closed Mondays
According to Antonio Paolucci, director of the Vatican Museums, without Melozzo it's possible that the 16th century of Raphael and Michelangelo may well never have existed. High praise indeed.
This exhibition "Human beauty between Piero della Francesca and Raphael' shows the bulk of Melozzo's work (the catalogue says the exhibiton features all of his work that is able to be moved) juxtaposed with works by artists he was exposed to, learned from and was an influence upon in has career – Mantegna, Piero della Francesca, Bramante, Berruguete, Beato Angelico, Mino da Fiesole and Antoniazzo Romano.
Official site (Italian only)
Information page on regional tourist information site, in English