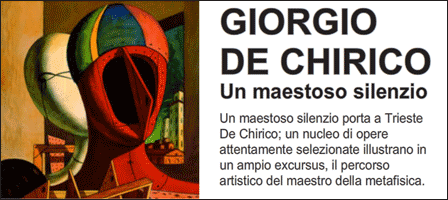 Giorgio De Chirico – A Majestic Silence
Trieste, Castello di Miramare Museum (Scuderie Castello di Miramare), Trieste
Until 27th February 2011, Tuesday to Sunday 10.00 – 19.00
An exhibition featuring 90 works by a giant of contemporary art, exhibiting his 'artistic passage through metaphysics'. It says here.
If you click on the link that reads 'Scarica i testi di …..' then you'll get a PDF for the exhibition, the second part of which is in English. To quote from the brochure:
Mannequins as statues, statues as shadows, muses as plaster statues, squares as rooms with wooden floors: the visionary world of De Chirico appears in all its strangeness and power.