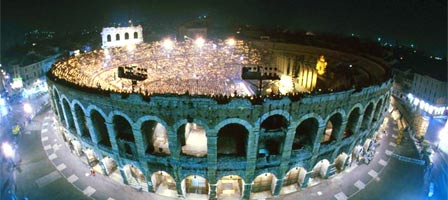 The following quotes are taken directly from the offical press release:
The season will start on June 17th 2011 with a new stage setting of La Traviata by Giuseppe Verdi, designed by the Argentinean Director Hugo de Ana. The female interpreters will include the melodious, intense expert Verdi voice of the soprano Sondra Radvanovski as Violet, who will be back after just one year from her debut at the Arena. Inva Mula and Ermonela Jaho will take turns as Violet in the other performances. The role of Alfredo Germont is shared by Francesco Demuro and Francesco Meli, and Giorgio Germont is interpreted by Carlos Alvarez, Gabriele Viviani and George Gagnidze. The orchestra will be conducted by Maestro Carlo Rizzi, who will be debuting for the first time at the Arena.
The second opera on stage on June 18th 2011 is Aida by Giuseppe Verdi. The stage setting is designed by Gianfranco de Bosio, who was inspired by the fascinating scenography in the historic production in 1913, designed by the architect Ettore Fagiuoli, and which confirms Aida as the most loved and performed opera at the Arena. The orchestra will be conducted by Maestro Daniel Oren
On June 25th 2011 the first performance of Il Barbiere di Siviglia by Gioachino Rossini, directed by Hugo de Ana who also designed the scenery, costumes and lights for the highly successful 2007 edition. The orchestra will be directed by the very young Maestro Andrea Battistoni from Verona, who will be making his debut at the Arena.
The fourth title is Nabucco by Giuseppe Verdi opening on July 9th 2011 with repeat performances on July 15th, 20th, 23rd and 27th; August 5th, 12th, 21st and 25th; September 1st. The edition will be one of the most historic and traditional at the Verona Arena, with scenery by Rinaldo Olivieri and directed by Gianfranco de Bosio, Maestro Julian Kovatchev will be conducting.
The fifth title is La Bohème by Giacomo Puccini with the highly successful stage setting by the French director Arnaud Bernard. The Arena Orchestra will be conducted by Maestro John Neschling. Repeat performances on August 6th, 13th, 19th, 26th and 30th; September 2nd 2011.
Final and sixth opera on stage is Roméo et Juliette by Charles Gounod, second new stage design for 2011 on stage on August 20th, 24th, 27th 2011. Directed by Inbal Pinto and Avshalom Pollack, while Shakespeare's two lovers will be interpreted by Nino Machaidze and Ramon Vargas. The Arena Orchestra will be conducted by Maestro Fabio Mastrangelo appearing for the first time at the Arena.
Our blog post with details of the 2011 edition.
Ticket reservations for the Verona Opera Festival