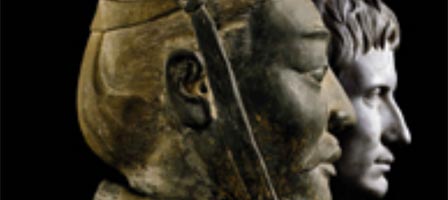 Rome, Curia Iulia (Roman Forum)
Largo della Salara Vecchia 5/6
'I due imperi. L'aquila e il dragone'
8th October 2010 – 9th January 2011
Seven days a week, 08.30 AM – 18.30 PM until the 24th of October, then 08.30 AM – 16.30 PM. Closed 25th December and 1st of January
Having run for six months in Milan, this major exhibition now moves to Rome. Over 450 masterpieces will compare the rise and fall of the Roman empire with that of the ruling dynasties of early imperial China (the Qin and Han dynasties). Note that entrance to this museum is included in the cost of the ticket to visit both the Colosseum and the Roman Forum – click here to make reservations.
Pieces on show include terracotta warriors, jade funeral vestments, a lacquered sarcophagus with jade inlays, painted silks, frescoes and models of houses and everyday bronze and iron utensils the better to compare daily life in what were probably the two most important empires in history.
The video below is taken from the Milan exhibition, but will doubltess give you the right flavour should you be intending to visit the Rome edition:
This is a link to a press release in English, though they would appear to have translated Aquila (eagle) as Aquilone (kite), and this is a link to the Culture Ministry announcement of the exhibition, together with a PDF press release (Italian only).
Book tickets for the Roman Colosseum (ticket includes entrance to this exhibition!)