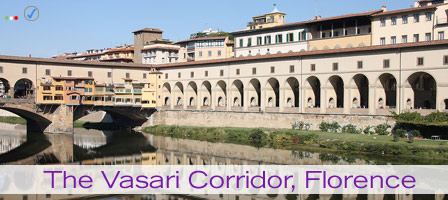 We're delighted to finally be offering guided tours of the Vasari Corridor in Florence, and we'll use this blog post to give you some further background information on this, possibly the most undiscovered gem in Florence's ample treasure trove … so read on for some history, images and video footage.
Having replaced the Florentine Republic (and seeing the impending marriage of his son to Johanna of Austria), the grandest Medici of them all, Grand Duke Cosimo, was perhaps rightly none-too-keen to rub shoulders with the public of Florence. Yet he still needed to get to 'head office' (the Palazzo Vecchio) from his townhouse (the Pitti Palace), a distance of almost a kilometre, with the Arno river in between.
The obvious solution? To construct an aerial urban walkway to allow unhindered and covered access from door to door. Built in 5 months to designs by Giorgio Vasari (he of 'Lives of the Artists'), it wrapped itself around several buildings en route and saw the existing butcher shops of the Pontevecchio replaced with the still-present gold merchants as the smell bothered the Medici nose.
On the Pitti side of the river the corridor enters the church of Santa Felicita; there is a heavy railing through which the church's interior can be viewed from above … this also allowed the Medici clan to take part in services from on high, again avoiding any troubling mingling with the great unwashed of Florence.
The photograph below is taken from the upper floors of the Uffizi Gallery and looks down and across to the corridor and the Pontevecchio: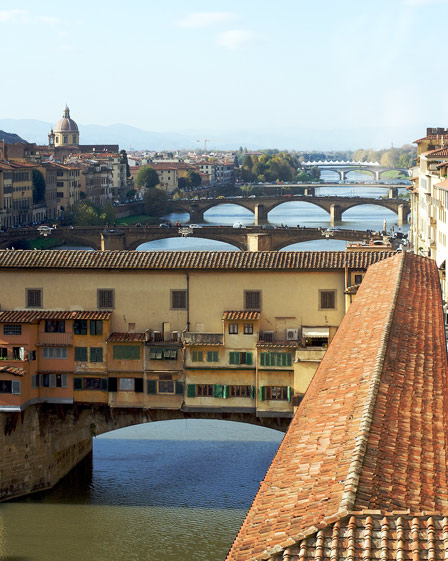 The first video below (in Italian only) is from the official reopening of the corridor earlier this year – watch it for a real flavour of what you'll be seeing on the tour. The second video is a montage of shots taken from someone on a tour.