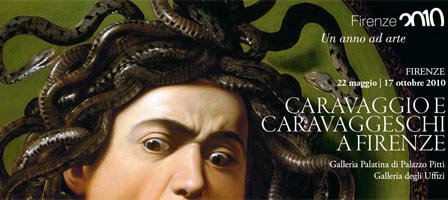 Well, we could show you the fax from the Florence office of State Museums, but that's about it …. nowhere online (not even on the official site) is there a mention of the fact that the Caravaggio-themed exhibitions currently running in Florence, initially due to finish in October 2010, have been extended to run until the 9th of January 2011.
When Italian galleries hold special exhibitions (more often than not they are holding one), the ticket price is increased – the price we show you on tickitaly.com will always include this, although sometimes, as has happened here, we get told very late in the day of such schedule changes, and we may need to contact people who have already placed orders to let them know that the price has increased, usually by 2 or 3 Euro per ticket.
This is what we had to say when the exhibition was first announced:
To this day Florence is still home to more Caravaggio works than anywhere else in the world, after Rome. But for Florence to lay a claim to Caravaggio is stretching things – it is far from certain if he ever set foot in the city.

What is beyond discussion is his influence here. Caravaggio, when in Rome, was a visitor to the Palazzo Firenze, and there, via Cardinal Del Monte, ambassador to the city, would have become known to the Medici Grand Duke Ferdinand. By the end of the 16th century the Bacchus and the Medusa were already hanging in the Uffizi, and over the coming decades the Medici (especially Cosimo II) would continue to be collectors, both of Caravaggio himself and of his many followers and imitators.

To mark the 4th centennial of Caravaggio's death, this exhibition – which is also taking place at the Palatine Gallery at the Pitti Palace, will show more than 100 pieces, the bulk from Florence's own treasure trove, others from private loans.