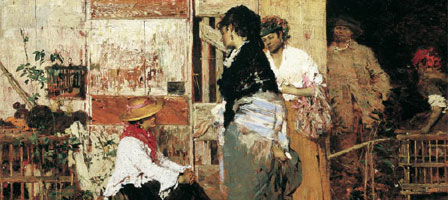 Museo Correr, Venice
Giacomo Favretto – 'Venice, Fascination and Seduction'
Until 21st November 2010
A collection of works by this importan Venetian painter brings together works from public and private collections across the world.
The following quote is from the official press release for the exhibition (PDF).
A true "innovator" of the Venetian school during the second half of the century, he both revived and modernised the unique aspects of great Veneto tradition – from Longhi to Tiepolo – that had been abandoned in the first half of the Nineteenth century in favour of paintings of history and landscape.
In his short but intense career, Favretto was to become a hugely successful painter. He died prematurely in 1887, leaving unfinished on his easel Modern Stroll that might have represented a possible Venetian form of the most modern international trends although it was not until 1895 that the Biennale was to be founded in Venice.